Are you tired of constantly searching for an electrical outlet to charge your phone like me?
If yes, then read this whole article because it is going to tell you everything about one of the most iconic inventions that recently amazed me: "The solar-powered phone case/charger" I have always been tired of my phone's battery dying whenever I am not at home. So, I always wanted a simple solution that should be both convenient and environmentally friendly.
Fortunately, one of my dearest friends told me about this iconic invention that will charge my device without any power outlet. These devices use solar panels to recharge your mobile phone's battery. They typically take the shape of an external charger that can be linked to our phones or a protective case for our phones that has solar panels incorporated right into it.
For solar panels to turn the sun's energy into electricity, you must set a solar-powered phone cover or Charger in direct sunlight when using them. After that, the electricity is stored in an internal battery that can later be used to recharge your phone's battery. Do you know how much power a panel can generate in one day, you cant even imagine. Sounds easy?
Well, that's very easy to use. However, finding the perfect one for your device and needs is tough because the market is flooded with solar-energy devices.
That's why I am here with an insightful list of the best solar-powered phone cases and chargers available on the market: So, without wasting any time, have a look at some of the best products:
List of the Best Solar-powered phone case/charger in 2023:-
According to testing and categorical experience, these are the top solar-powered phone chargers worth buying, whether for regular usage, outdoor activities, or emergencies.
1. BigBlue 3 Solar Charger
Who it is for: It is very useful for travelers, hikers, and campers as they spend a lot of time outside or in places that do not have power outlets.
Who it isn't for: This device is not for those who frequently use their electronic devices indoors and have easy access to power outlets.
Product Description:
Dimensions: 33.1 x 11.1 x .2 inches (unfolded) or 11.1 x 6.3 x 1.3 inches (folded)*
Power: 28 watts
Built-in battery: No
Ports: Three USB-A ports
Weight: 21.5 oz (1.34 lbs)
IP rating: IPX4
Though the BigBlue 3 Solar Charger is not the best, it is certainly a product that deserves a place on this list. I adore how simple it is to open up this portable solar phone charger and let the sun's energy pass through its four panels, which can be used to charge your GoPro, iPhone, or Bluetooth speaker.
Because of its portability, it is an excellent choice for a family camping trip. Additionally, it has three USB ports to charge multiple gadgets simultaneously.
However, we need to be cautious about charging stopping if there are many clouds overhead because it does not store electricity. Fortunately, it will automatically resume when the sun shines again.
Pros:
Multiple devices charging with three USB-A ports.
When opened, a sizable panel surface.
Tiny and transportable.
Cons:
Power cannot be stored.
USB-A ports only.
2. Blavor Solar Charger Power Bank 18W
Who it is for: It is best for those who need to stay outside their house for a long time because of power capacity.
Who it isn't for: The product is inappropriate for people living in shady areas.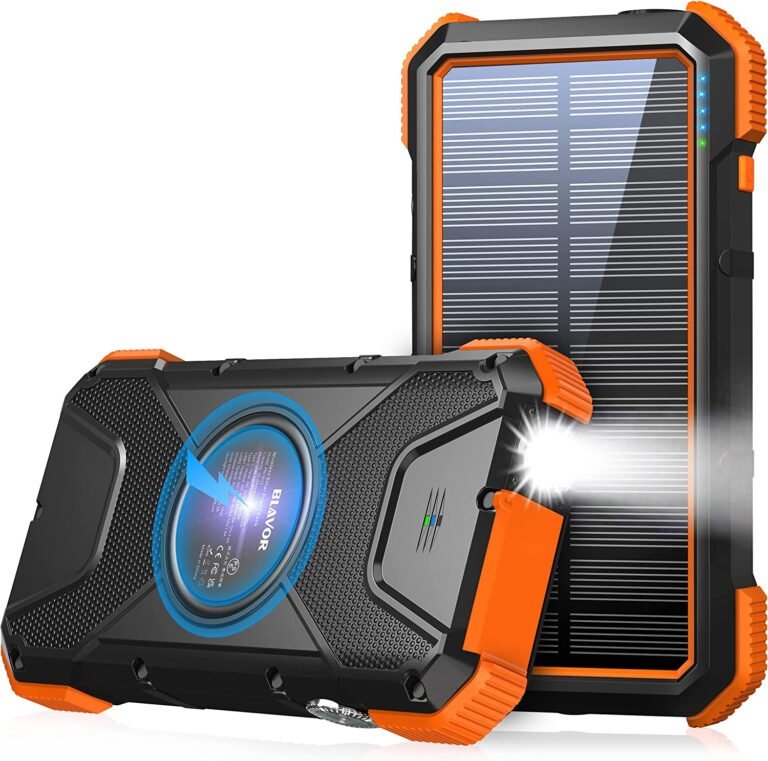 Product Description:
Dimensions: 6.9 x 3.5 x 1.1 inches
Power: 18 watts
Built-in battery: Yes
Ports: Four USB ports (Two USB-A, one USB-C, one Micro USB)
Weight: 1.43 lbs
IP rating: IPX5
mAh: 20000
Blavor Solar Charger Power Bank 18W made this place on this list is not quite surprising, given its stunning features. I like that with four USB connections, including one USB-C port for quicker charging, this versatile device functions as a power pack, dual flashlight, and compass.
Additionally, if your phone is Qi-enabled, it allows wireless charging and supports multiple devices simultaneously.
Given that it is just 7 inches long and tiny enough to fit in my backpack, I took this portable solar Charger with me whenever I was outside. It gives me a headache-free life.
Also, it has an IPX5 rating, and I discovered it was resilient enough to withstand exposure to light rain. However, it would help if you remembered that the solar charging option isn't as quick or reliable and that you should fully recharge your power bank via an outlet before setting off on your next journey.
Pros:
Four USB ports, including one USB-C port.
Kit with compass and flashlight included.
Wireless charging capability.
Cons:
Smaller space for solar charging.
Expensive.
3. Anker PowerCore Solar 20000 – Best Solar Mobile Charger
Who it is for: This Charger is ideal for individuals who love spending time in the great outdoors and need a reliable way to charge their devices.
Who it isn't for: It is not useful for those who do not spend much time outdoors or have regular access to electrical outlets.
Product Description:
Dimensions: 6.85 x 3.46 x 1.18 inches
Power: 18 watts
Built-in battery: Yes
Ports: Two USB ports (One USB-A, one USB-C)
Weight: 16.5 oz or 1 lb
IP rating: IP65
mAh: 20000
The Anker PowerCore Solar Charger is an ideal choice for people like me who love spending so much time outside because this solar Charger was designed with outdoor enthusiasts in mind and has an IP65 classification to withstand the weather.
Additionally, the Charger's functionality was unaffected by a little dirt or water, even when exposed to them. I also like its built-in illumination, which makes its use at night easy.
However, I advise fully recharging the power bank before leaving on a trip, as it charges quite slowly. Additionally, even though we can charge two devices simultaneously via USB-C (like your Apple Watch) or USB-A, I advise you not to do this as it will decrease the charging time for devices.
Pros:
Two USB ports, one of which is USB-C.
IP65 score.
Three illumination options, plus a dimmer.
Sleek and small design.
Cons:
Slow to charge.
The learning curve for controls.
4. Nekteck 28W Solar Charger
Who it is for: This gadget is useful for those living with electricity scarcity.
Who it isn't for: It is terrible if you need a long-lasting battery for prolonged use.
Product Description:
Dimensions: 32.3 x 11.1 x .7 inches (unfolded) or 6.3 x 11.1 x 1.1 (folded)*
Power: 28 watts
Built-in battery: Yes
Ports: Two USB-A ports
Weight: 23 oz (1.43 lbs)
IP rating: IPX4
The Nekteck 28W Solar Charger is one of the most economical solar phone chargers I have ever used. They are inexpensive and work better than some expensive and well-known models on the market.
With two USB-A ports, I can simultaneously charge two devices, and it unfolds to a length of more than 32 inches. Additionally, it is incredibly lightweight and is readily fastened to a backpack using the included clips, which makes it a good choice for trekking.
It also has a zippered pouch that helps keep wires and devices safely inside while you're on the go. However, even though it includes a micro-USB cable that can charge compatible battery packs or cameras, unfortunately, it is not compatible with many devices.
Also, it is not good for prolonged use as its battery doesn't work longer.
Pros:
Affordable
Two USB ports to charge two gadgets at once.
Expansive panel surface.
Includes a storage pouch with a zipper.
Cons:
Power cannot be stored.
Certain devices are not compatible.
5. FEELLE Solar Charger
Who it is for: This solar-powered battery is suitable for those who want a compact and portable solution to keep their devices charged on the go.
Who it isn't for: The Charger is not good for travelers who travel to areas with extreme weather conditions.
Product Description:
Dimensions: 6.1 x 3.35 x 1.37 inches
Item weight: 1.18 pounds
Batteries: 2 Lithium Polymer batteries
Ports: USB-A x 2, Micro USB
The FEELLE Solar Charger is one of the best options for those who want a compact and portable solution to keep their devices charged on the go. Immediately after buying this, it worked fine for me when I took it to college.
It has a sufficient surface area, is simple to hang on a backpack or set down to charge, and is still small enough to be taken on kayaking or camping trips.
It can be charged by the sun, like other solar battery packs, and charged at home using a USB charger. During the trek around the waterfall, a friend charges her camera and phone with it.
It works particularly well even after a long time of usage. However, when I am not using it, its battery drains, which is one of the biggest drawbacks of this Charger.
Pros:
Portable and compact
Integrated bright flashlight
A larger surface area increases solar power
Cons:
Charges slowly
Resistant but not waterproof
Not compatible with many smartphones
Things to look for when purchasing a solar phone charger
Today's market is flooded with high-quality solar power chargers, so the "best" choice will depend on your requirements and tastes. Here are some things to take into account when selecting a solar power charger:
Power: The Charger's power intrigues me the most, as it will ensure better performance. It will also ensure the efficiency that helps convert more sunlight into usable power. It will also result in faster charging times and longer battery life.
Portability: Portability is another important factor we need to look out for when buying solar phone chargers because most of their use will come while we are outside. That's why compact or foldable solar chargers have become a popular choice.
Connections: Higher compatibility is also very important because we do not know when someone with a different device asks us for a solar charger.
Backup battery: If you are unsure if you will be exposed to the sun, make sure your solar Charger can store your charge by charging a rechargeable battery that can recharge your mobile device when needed.
Benefits of a solar-powered phone case/charger
Eco-friendly: Solar-powered phone covers and chargers are eco-friendly because they use the sun's renewable energy rather than the grid's conventional electricity.
Portability: These chargers are convenient and portable in situations without access to a power outlet, such as when traveling or engaging in outdoor activities.
Long-term savings: Solar phone chargers can help you save money by lowering your electricity costs and removing the need for throwaway batteries, making them an economical choice.
Efficiency: Solar phone chargers are becoming more and more effective as technology develops, and they can swiftly recharge your phone.
Drawbacks of solar-powered phone case/charger
Weather dependent: The effectiveness of solar-powered phone covers and chargers depends on how much sunlight they receive. The Charger might not function properly in cloudy or overcast conditions.
Starting Cost: Buying a solar-powered phone charger has a higher initial cost than buying a standard charger.
Low battery capacity: Most solar-powered phone covers and chargers have low batteries that may not be able to recharge your phone fully.
Heavy and clunky: Certain solar-powered phone cases and chargers may be heavy and clunky, making them less portable than traditional phone chargers.
(Video Credit – BRIGHT SIDE)
Frequently Asked Questions:-
What is the need for a solar mobile charger?
Solar phone chargers use solar panels to replenish phone batteries. These are occasionally recommended to charge phones without using mains energy, unlike electrical cell phone chargers, and can be used when there is no electricity supply available—either from the mains or, for example, a vehicle battery.
Do solar phone chargers require exposure to the sun's rays?
Since there is no attached battery pack, the Charger must remain in full sunlight while charging your phone. However, you can always get a separate one and charge it when the sun isn't shining.
Do solar phone chargers function effectively?
The answer to this question is quite tricky. If you have a solar phone charger with better battery-back capabilities, it functions effectively. However, if you buy something that is not worth buying, it will cause a problem. So, before buying a solar phone charger, always research the best available options.
Can a solar charger be recharged with electricity?
There are instances when your solar panels may not provide enough power to recharge your batteries. In such circumstances, you can use electricity from the local power system to charge the batteries.
How quickly can a solar charger charge?
A panel can recharge a completely discharged battery in five to eight hours. Depending on the battery's condition, the overall charging time may change. A solar panel can re-energize the cells in five to eight hours if a battery is completely discharged.
Do solar phone chargers function on cloudy days?
Photovoltaic panels can produce energy from direct or indirect sunlight, but direct light is best. Some solar panels, high quality, will continue to function even when clouds reflect or partially obstruct sunlight. So, it is up to you what device you are using.
Are solar chargers more environmentally friendly?
Using solar energy to generate electricity instead of fossil fuels can significantly lower greenhouse gas emissions, especially carbon dioxide (CO2), making them more environmentally friendly.
Final Verdict
At last, using a solar-powered phone cover or Charger while you're out is more convenient and environmentally friendly. Even though it has certain limitations, such as being weather-dependent and having a small battery capacity, its multiple advantages make it an excellent choice for anyone who spends a lot of time outside or wants to lessen their carbon footprint.
They have the potential to change the future of smartphones as it results in the availability of cheaper power alternatives and more technological advancements in the field of solar power energy.
Ray is an avid reader and writer with over 25 years of experience serving various domestic and multinational private and public energy companies in the USA.