Do you know that using solar powered electric fence chargers can help you save a lot of electricity and money?
Using an electric fence could be a wonderful option if we want to keep all of our cattle and other animals inside fences and barns or if we want to prevent trespassers from entering our land.
But connecting solar fences to the power grid can generate high electricity consumption. To overcome this problem, we have solar-powered fences available on the market that can work on the solar energy generated by the sun without any costs.
You are well aware of the benefits of a solar fence charger. Still, we must keep many things in mind while choosing the correct one. Because the wrong solar fence charger can have serious consequences,
So, here I am with a well-researched guide about the top solar-powered fence chargers available on the market and everything you need to know about them.
List of the Best Solar Powered Electric Fence Chargers:-
1.  Zareba ESP5M-Z 5-Mile
Regarding solar-powered fence chargers, Zareba is one of the most well-liked options available because it provides a wide range of really efficient options, especially considering the price range.
This product gives impressive performance across short to medium-length fences while being strong and well-built. It is very simple to install. This product has a built-in 360-degree rotating mounting bracket, which allows us to angle it for maximum sunlight exposure. I like its built-in battery, which gives us up to 2 weeks of solar power on a single charge.
If you are looking for a solar fence charger that is best for keeping horses and cattle, look for this product designed specifically for this purpose. Other than this, you can also use it for keeping your small pets and animals.
The best part about this solar-powered fence charger is its portability, which allows us to install it permanently or temporarily and move it from one place to another without any problem. It is the most budget-friendly solar fence charger available.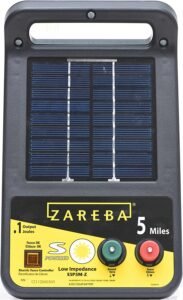 2. Gallagher S40
One of the best portable solar-powered electric fence chargers available on the market is the Gallagher S40. It is robust enough to resist significant wear and tear and portable enough to carry it without straining your back in the most remote areas.
Depending on your setup, the S40 can power up to 5 miles of multi-wire fencing or up to 25 miles of single-wire fencing. This solar-powered electric fence is safe and simple to install just about anywhere because of its design, which is water-resistant and has inbuilt lightning protection.
Its dual functioning modes are an inventive and distinctive integrated feature. Firstly, it operates the product at half power but produces quick pulses during the day and at night. The other setting operates the charger at full power but generates slower pulses at night when animals should be resting.
This 7800-volt solar fence charger can store up to 0.4 joules of energy. It can work for up to 3 weeks without sunlight after fully charging. I appreciate how powerful this product is.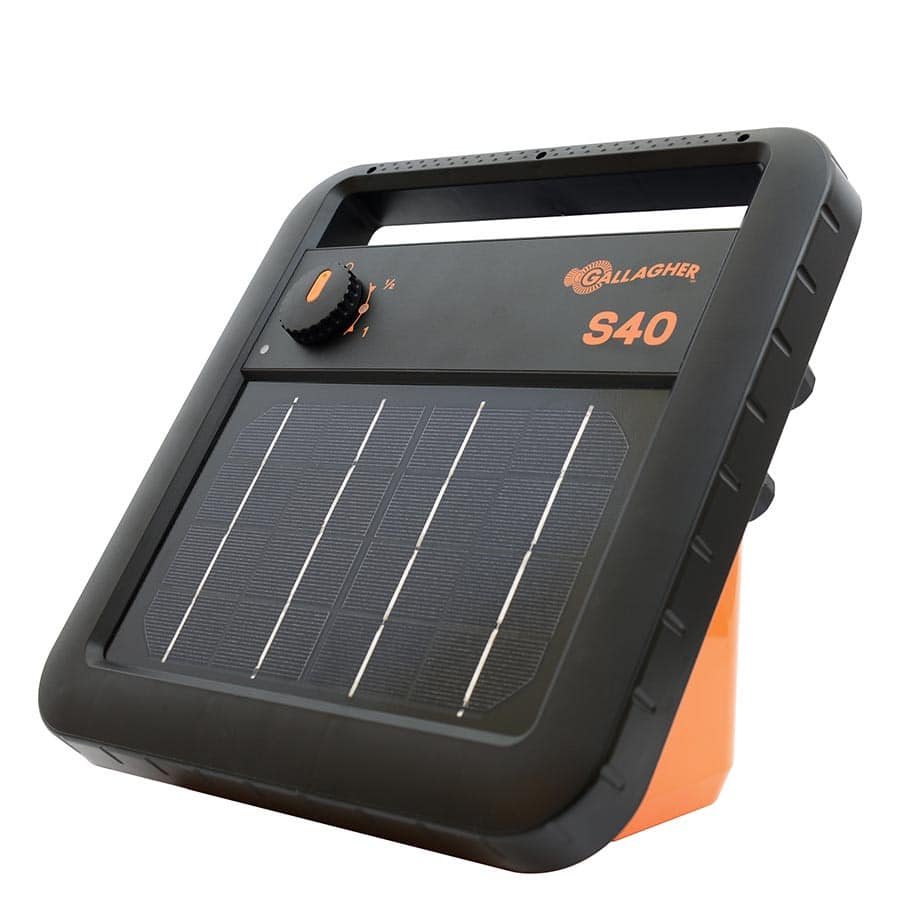 3. Parmak MAGNUM Solar Pak 12 Fence Charger
The Parmak solar fence charger is one of the most expensive and high-end options available. It is entirely developed and produced by an American company with a decade of expertise in the electric fence industry.
The Parmak MAG12-SP is the best solar electric fence for cattle, horses, deer, predators, dogs, other small animals, etc. After turning it on, I appreciate its built-in performance meter that will give us the three main functions.
Firstly, the performance meter operation test; under this, you'll check whether the meter moves smoothly and if it's able to indicate voltage output at full scale or not. Secondly, the solar battery level test will display three alternatives (red, yellow, and green) if the battery is depleted or suitable for use. Lastly, the voltage output test will show the exact voltage level on the fence.
This 12-volt solar electric fence charger is a low-impedance charger fence with an open circuit voltage of 11,000 volts. To be more exact, it can range up to 30 miles and is suitable for medium to large pastures. It is perfect for heavy-duty usage.
4. Parmak DF-SP-LI Solar Pak 6 Fence Charger
Parmak is a respected, reputable brand known for its quality products. The Parmak DF-SP-LI Solar Pak 6 is a great pick because it's surprisingly sturdy and portable, which makes it easier to carry from one place to another.
The Parmak DF-SP-LI delivers a potent low-impedance shock. It is designed with solid-state technology, computer precision, and laser trimming. This solar-powered electric fence charger utilizes a small solar panel to charge a 6-volt battery by over 42% continuously. It has enough power to cover a fence up to 25 miles long.
Because of the built-in solar panel that can keep the fence charger functioning for about 21 days, this is the best solar-powered fence charger even in complete darkness. So regardless of the season, this will keep working.
It also has a built-in performance meter that allows us to test meter operation, battery level, and voltage level easily and quickly, which allows us to have zero worries about checking its performance regularly.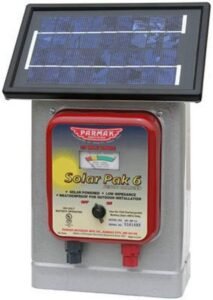 5. Zareba ESP10M-Z Solar Fence Charger
Regarding solar fence chargers designed for large-scale usage, Zareeba offers many powerful and flexible options if you're willing to spend a little more. Zareba's ESP10M-Z solar-powered fence charger is one of the most powerful options available.
Zareba recommends charging the 6-volt battery in the off position for almost three consecutive days to charge the rechargeable battery fully. After fully charging the battery, it can work for up to two weeks without a charge.
The fact that this 10-mile solar electric fence is suitable for animals like bulls, goats, calves, and horses is my strongest point. This product delivers up to 0.15 joules of energy shock, designed to keep short-haired animals confined within the fence system.
Furthermore, the Zareba ESP10M-Z can reach up to 10 miles of weed-free electric fence with steel wire and 5 miles with poly wire. So we have to remember that weed can lower its range to 5 miles (steel wire) and 2.5 miles (poly wire), and the heavy weed conditions reduce the range to zero.
6. Patriot SolarGuard 155 Fence Charger
The Patriot SolarGuard 155 Fence Charger is a great option if you're looking for a solid-state solar fence charger. It offers good performance at an affordable price, which allows you to protect your livestock effortlessly and efficiently.
You can place it on almost any fence thanks to the dual mounting options, which include T-posts and wooden posts. It is designed to supply electricity to fence ends even with heavy loads, such as foliage and vegetation.
I like the in-built flashing red light that will quickly indicate whether or not the solar fence charger is working and powering the fence. So we don't have to test it manually again and again. The best part is that it's durable and easy to use.
Thanks to its integrated solar panel and battery (12 volts and 7 Ah capacity), this model enables a full off-grid option for your electric fence system. The fence charger's range can reach 2 kilometers, or 1.2 miles, away. It also features an intelligent battery management system that enhances battery life. It is a great choice for those needing a medium-range solar fence charger.
7. Zareba ESP2M-Z
This Zareba ESP2M-Z is the most commonly used solar fence charger to keep domestic animals, such as dogs and bunnies, and poultry managed without any worries. Also, it can be used to keep unwanted animals off your land because they are a hassle to handle.
It has great durability and exceptional performance, very similar to any other solar fence charger by the Zareba brand. Thanks to the built-in rechargeable battery and solar panel, this unit can keep your fence powered for up to two weeks without the sun.
This product can range up to 2 miles for steel wire and no weeds or 1 mile for light weeds, and steel wires vary depending upon the weed conditions. In the case of poly wire, the range reduces to 1 mile (no weeds) or 0.5 miles (light weeds). The product also works with high-tensile steel or aluminum wire, poly rope, or poly tape.
It features a one-year warranty with lightning protection and water resistance. You can go for this product if you want a simple and low-range solar fence charger.
8. Silver Streak 12 Volt Lightning Diverter
This silver streak solar fence charger is great for keeping larger animals like horses. It is one of the most powerful chargers available, which can work even with tall grass and bushes. It can power up to 25 miles, or 100 acres, of the fence after fully charging.
It has no internal battery, allowing you to attach any 12V battery according to your preferences outside the unit. It is very easy to install and replace the battery. I highly recommend you use deep-cycle batteries.
It is highly durable, and the manufacturer provides a 2-year warranty. It also includes a lightning protection diverter, specially designed to protect the internal parts of the circuitry from a lightning strike and harsh weather conditions.
This Lightning Diverter includes a polycrystalline solar panel that is powerful enough to charge the selected lead-acid battery (ideally an AGM type). It is compatible with all steel, aluminum, or poly wire. I recommend this product to those who want a budget-friendly and efficient solar fence charger.
9. Premier Solar IntelliShock
Regarding solar-powered products, such as the solar fence charger mentioned above, Premier Solar is one of the most exclusive and high-end brands available on the market. It is the most versatile product that can fit in any space.
It is very easy to adjust the position of your solar panel by tilting it in the direction of direct sun exposure at any time. Also, the battery included with the solar fence charger has a large capacity to keep enough power stored for its operation even during limited sun exposure.
From my experience and many other reviews, it works well even after significant exposure to water. So, it is waterproof and weatherproof. It can power up to one mile of three-strand fencing and half a mile of five or seven strands.
It comes with a two-year warranty that also covers lightning damage. The batteries have a 30-day warranty. You also get a full kit of accessories, including a five-light tester, wiring harness, and battery recharger. This is great for keeping your animals and farms safe from outsiders.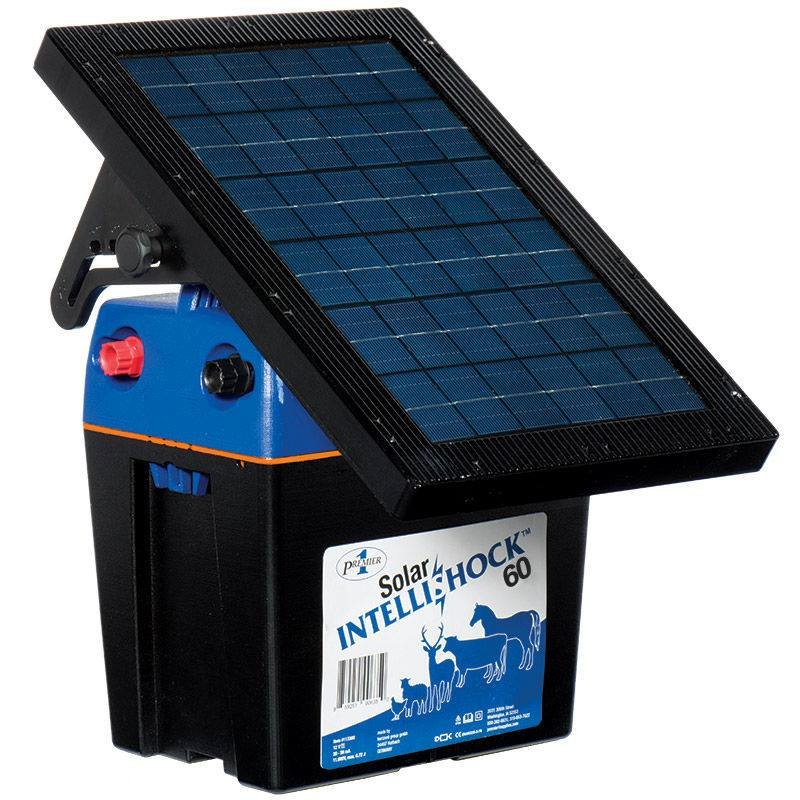 10. Gallagher S400
This solar-powered fence charger is one of the latest fence chargers by Gallagher available on the market. It has a dual solar panel, which makes it very useful for both vegetation and other uses.
It is highly resistant to harsh weather conditions, including rain, hail, snow, and others. It also has in-built lightning protection, which is a must for open, wide areas with important lightning activity.
The multiple-power option allows us to set this solar fence system according to our needs. It came with a large 40-watt solar panel, which can be used to recharge its 12V battery. It can power the fence up to 60 miles (the range varies depending upon the material used for fencing). It can work without sunlight for up to two weeks after being fully charged.
This Gallagher S400 came with an innovative design and a 3-year manufacturer's warranty. Therefore, this solar fence charger can power the fencing around an entire large farm without any worries.
Pros of Solar-Powered Fence Charger:-
The benefits of a solar fence charger are as follows:
Cost savings: Solar fence chargers utilize the sun's solar energy to recharge their batteries instead of the electricity supply from the grid, allowing you to save money on electricity bills.
Portability: They are portable and lightweight, making them very helpful for people who need temporary fencing or to fence off certain parts of their property.
Eco-friendly: They are sustainable and environmentally beneficial substitutes for conventional electric fence chargers that rely on fossil fuels or the grid.
Low maintenance: Once installed, solar fence chargers require little to no maintenance, except for occasional cleaning of the solar panels to maintain optimal charging efficiency.
Reliability: Solar fence chargers are designed to work even in low-light conditions, ensuring your electric fence stays charged and effective even during cloudy or overcast days.
Safety: Compared to conventional electric fence chargers, solar fence chargers often offer a safer alternative for people and animals since they deliver a more consistent and regulated charge.
Cons of Solar-Powered Fence Charger
The drawbacks of Solar fence chargers are as follows:
Weather-dependent: Solar fence chargers need sunlight to work, thus, they might be less efficient when there is a lot of cloud cover or more sunlight.
Initial cost: Compared to traditional electric fence chargers, solar fence chargers might seem more expensive, but over time, the expense can be offset by lower electricity costs.
Battery life: The battery life of the solar fence charger can be affected by extreme weather conditions and water exposure, causing it to malfunction.
Limited power output: It has a lower power output, making it less effective for bigger properties or fences with higher voltage requirements.
Installation: It requires an expert and additional equipment for its installation if the property still needs to get a solar power system.
Security: Solar fence chargers may be susceptible to theft or damage if improperly guarded because they are portable and simple to remove.
How Do I Select The Best Solar-Powered Fence Charger?
As we all know, each solar fence charger can power fence wires up to a predetermined or maximum length. This is why there has always been a need to select the best solar fence charger according to one's needs and requirements.
I have already compiled the list of the best solar fence charger available in the market above. But, if you want to select the best one according to your requirements, you can check out the factors based on which I have chosen the above products. Here are some basic factors to take into consideration:
Determine your power needs: By keeping in mind the length and type of your fence, the animals you are keeping, and the voltage required for your specific situation, you can choose the best solar fence charger with the appropriate power output for your needs.
Evaluate the cost: Solar fence chargers can vary in price depending on their features and power output. Compare the prices and features of different solar fence chargers to find one that fits your budget while still meeting your power needs.
Battery capacity: The size of the solar fence charger's battery will determine how long it can power your electric fence without direct sunlight. So, if you live in an area with little sunlight, get a solar fence charger with a battery capacity that suits your demands.
Weather Conditions: The efficiency of your solar fence charger will depend on how much sunlight your property receives and the local climate. So, choose a product that can tolerate exposure to weather extremes, including rain, snow, and heat.
Safety features:
Short-circuit protection to keep your animals and farm safe without any worries.
Ensure the solar fence charger you choose includes safety features like lightning protection.
Surge protection.
You can select the best solar fence charger that meets your specific needs and preferences by determining these points.
Frequently Asked Questions
How do solar fence chargers work?
Ans: Solar fence chargers use solar panels to collect energy from the sun and store it in a rechargeable battery. The stored energy is then used to power the electric fence, providing a safe and effective barrier for animals.
[Video Credit – Zareba Systems]
Can solar fence chargers be used in all weather conditions?
Ans: Solar fence chargers are designed to handle exposure to the weather, including rain, ice, and summer heat. But it's crucial to pick a solar fence charger that's made specially for outside use and is waterproof.
Are solar fence chargers more expensive than traditional electric fence chargers?
Ans: Solar fence chargers have a higher initial cost than traditional electric fence chargers, though they can be more cost-effective in the long run since they do not require electricity from the grid.
Are solar fence chargers effective?
Ans: When installed and maintained correctly, solar fence chargers are efficient in keeping animals under control and preventing them from escaping.
How do I install a solar fence charger?
Ans: Installation guidelines for solar fence chargers depend on the model and brand. Ensure to follow the manufacturer's directions properly and take all required safety precautions. Solar fence chargers are often attached to the electric fence and put on a post or wall close to the fence.
[Video Credit – Zareba Systems]
Conclusion
Solar fence chargers are very reliable for powering electric fences, especially in remote areas without access to electricity. They work by collecting solar energy via solar panels, storing it in a battery, and using it to run the electric fence.
There are many solar-powered fence chargers available in the market, like Parmak Solar-Pak 6, Zareba ESP10M-Z, Gallagher S10 Solar Fence Charger, and many more, but choosing the one that meets your specific needs allows you to create a safe and effective barrier for your animals without relying on electricity from the grid.
This is why it's essential to consider elements like power output, battery capacity, weather durability, safety features, and price when choosing a solar fence charger. You can select the best solar fence charger for your specific situation by carefully evaluating your power needs and preferences.
At last, solar fence chargers are a fantastic choice for anyone who wishes to power their electric fences in an economical and environmentally friendly manner.
Ray is an avid reader and writer with over 25 years of experience serving various domestic and multinational private and public energy companies in the USA.