Halloween!! Whenever this word arises, only one thing comes to my mind "The hollow pumpkin with scary teeth and light in it."
It was initially meant to celebrate the souls of our departed loved ones and facilitate their entrance into the "Afterworld."
But in the present time, Halloween has become modernized. Now it became a night filled with parties, tricks and treats, bonfires, and fancy costumes, and kids went door-to-door dressed up in fancy outfits to collect candy.
During Halloween, we decorate our homes in a spooky manner, which makes them look more intriguing. For this purpose, we must have some Halloween decorations like lights, lanterns, etc. However, these decorations consume significant electricity, increasing our electricity bill.
So, here are some solar-powered Halloween decorations that will help you get your home celebration ready without any extra costs or power outages.
List of the Best Solar-Powered Halloween Decorations:-
1. Senmao Home Decor: LED Pumpkin Halloween Lights
This Jack-o'-Lantern pumpkin light is an efficient and great-looking Halloween decoration powered by your electricity mains and solar energy. It comes with a 1 AA battery, providing up to 6 to 8 hours of fully charged solar energy. I bought these lights 2 years ago during Christmas, but they are still working fine.
This product uses LED bulbs, the most reliable bulbs available in the market. It is made up of plastic material and 50 warm white LED bulbs. It is also waterproof, which makes it very durable. For this reason, buying these lights is worth my investment.
It has 8 different lighting modes, i.e. fireflies, flashing, waving, fading, flashing, slow fading, twinkling, and steady on, which makes it even more satisfying.
With these lights, we don't have to worry about turning them on and off to conserve electricity because they work on solar energy. The best part about these lights is that they are easy to use.
2. Qunlight: Solar String Halloween Light
These Qunlight solar-powered Halloween lights are the best and most affordable solar decorations available. These lights give your Halloween décor a creepy yet cute touch. You can choose from various shapes for these fairy lights, including ghosts, spiders, pumpkins, bats, and many others.
It is made of plastic and has 30 LED bulbs in one string. I like its light sensor technology, which automatically turns it on at night and off in daylight without causing me to worry about turning them on and off every time.
These solar string lights have 8 different light combinations, i.e., waves, sequential, flashing, slogs, chasing, slow fade, twinkle, and steady on. I like the sparkling one because it gives off a perfect Halloween vibe.
On a sunny day, it can get solar power for up to 8 hours before requiring another charge. We don't have to worry about weather or seasonal changes because these lights are water-resistant. You can get these lights for around 12 to 18 dollars.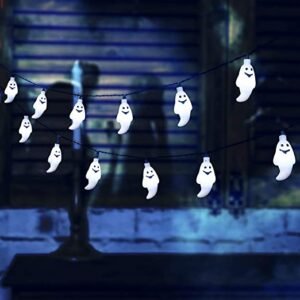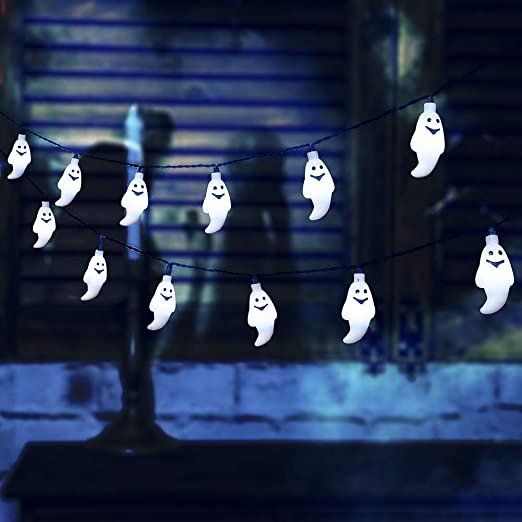 3. Oxy-LED Garden Lights
These solar-powered LED garden lights are attractive outdoor lighting fixtures that make your celebration more enjoyable. They came in various forms and sizes, including butterflies, hummingbirds, and dragonflies.
One set of these lights includes six LED lamps, each with a multi-color switching feature and is made of crystal-clear acrylic. Each lamp has seven altering colors. These colorful lights measure 30 inches tall.
This light has an inbuilt solar panel that automatically recharges throughout the day. Its battery capacity enables it to be on for up to eight hours every day after getting fully charged.
I like that these Oxy-LED lights get on automatically when it gets dark to light up our yard and automatically turn off at dawn. This feature lowers my concern about switching it on and off every time. However, they also have a manual on/off button.
The best part is that you don't need to be acquainted with specific installation techniques because they are optional. That is why these LED lights rank among the best decorative lights that can maintain themselves.
4. Flaming LED Solar String Bulbs
These LED string lights operate on solar energy produced by the sun, which allows us to be environmentally friendly and budget-friendly because it will enable us to save money on our electricity bills.
Each strand of this light is 27 feet long, while every bulb is 20 inches apart. These lights are made of durable plastic shells that protect bulbs from extreme weather conditions like rain, wind, and damp weather. They are waterproof and heat-resistant, which makes them durable.
I have seen these lights in my neighbor's house, and she told me that they could withstand 50 mph winds and rainfall. She also told me they could glow for up to 8 hours after charging for 5 to 6 hours during the day. They can be automatically turned on and off without any manual assistance.
The best thing is that these lights are incredibly easy to install and don't require wiring. The fact that it can function without an outdoor power outlet is the most significant advantage. You can get these lights for 45 dollars from any online shopping site.
5. Creeping Skeleton Garden Light
This creepy skeleton-shaped Halloween decor gives off a perfect spooky vibe for an occasion. This frightening skeleton lamp must be placed on the ground as it resembles a real skeleton emerging from the ground and, therefore, can frighten anybody who encounters it.
I have seen this skeleton light once during a Halloween night party in my uncle's house, and it scares me. It doesn't move or make any sounds, but based on my experience, it works well for scaring Halloween guests. This was when I decided to buy one for my home.
This realistic Halloween decoration has rubber pads on the bottom, so it may have been designed for indoor use. It weighs around 3.8 pounds and is smaller than life-size but still efficient for scaring people.
This skeleton garden light cost me 60 dollars and was a worthwhile option. It uses two "AA" batteries, allowing it to work continuously for about 4 to 6 hours daily. They are straightforward to set up and do not require any installation.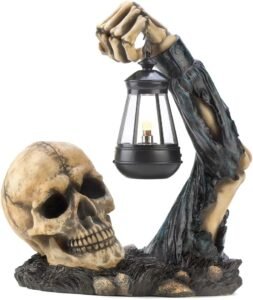 6. GoodLights: Solar Halloween Decorative Stake Lights
These solar decorative stake lights are one of the cutest Halloween decorations on the market. They appeared cute little ghosts with smiling faces and hands up as if greeting guests and trick-or-treaters.
I decided to buy these lights for my niece because every year on Halloween night, she gets scared of all these scary set up done by everyone. So, I choose to buy these cute and unique ghost stake lights. These lights are made of plastic and come in warm and white colors.
These solar-powered stake lights are 4 inches tall and can be placed on a pathway or inside your house. They have a manual on/off button that allows us to turn them on manually. It also can turn on automatically at night after being fully charged by solar energy during the day.
The best thing about them is that they are waterproof, so we don't have to worry about getting them wet during a rainstorm. They are very easy to install. I bought these lights for about 20 dollars, which makes them budget-friendly.
7. Brwoynn Solar Halloween Yard Decorations
This solar-powered Halloween décor is a pumpkin tree with LED lights. These cute but spooky-looking pumpkin stake lights will brighten your garden, trees, and flowers. It is made of durable metal with long-lasting anti-rust paint.
I like its design because it resembles a dry tree with spooky vibes. It looks as if the pumpkins with weird smiles are growing on a tree branch, with some bats swaying over them. It gives off warm yet ghostly vibes, which create the perfect Halloween ambiance. It came in black and orange.
Installing these Halloween pumpkin lights couldn't have been better or easier; you have to bury these solar garden lights in the ground, turn on a button on a solar panel's back, and point the solar panel in the direction of a sun.
These Halloween solar-powered garden lighting stakes will automatically charge during the day and turn on automatically when it gets dark. They are about 28.7″ in length and 9.8″ in width.
8. Solar String Halloween Lights by SANJICHA
These solar string Halloween Lights are the most efficient and ultra-flexible Halloween Decor available. They are 72 feet per wire in length and have 200 LED bulbs per string. It came in an orange color, which makes it perfect for Halloween.
This solar string light setup is a great option for your backyard, dinner, birthdays, Christmas, new year's parties, Halloween, and other special occasions, making it a worthwhile choice.
To meet your diverse needs, it has eight different lighting mode combinations, like waves, sequential, slo-glo, chasing/flash, slow fade, twinkle/flash, and steady on. I like its built-in memory chip that saves our last mode setting and allows me to have zero worries about resetting its mode every day.
These lights are waterproof and easily available on the market for 12 to 14 dollars per string. It requires up to 6 to 8 hours to get fully charged every day to work for at least 9 to 10 hours without needing any grid supply. It has a manual on/off switch and automatic on/off mode.
9. Brwoynn: Solar-Powered Pumpkin Ghost Stakes
This is a unique solar Halloween décor with a 3D expression. It looks like a scarecrow used in farms and fields to protect crops from crows. These stake lights are made of sturdy metal, are waterproof, and have anti-rust paint that resists corrosion for a long time.
This pumpkin scarecrow has an expressionless pumpkin face with a glowing black witch cap on his head. I appreciate how well it is portrayed. Here we can see that Mr. Pumpkin extends his hands while wearing a pair of grey gloves, a bow tie covered in green glitter, and a purple glitter-coated cloak blowing in the wind.
These pathway lights are ideal for Halloween, Thanksgiving, holiday, and party decorations, including charming pumpkins that smile and radiate warm light. It can also be a wonderful present for your loved ones, friends, and neighbors.
They are very simple to use and easy to install just by plugging these solar garden lights into the soil, turning on the button on the solar panel, and placing a solar panel towards the sunshine. It has an auto-on/auto-off feature for better support.
10. TomCare Flickering Torches
These stunning flickering torches look very similar to a real flame torch. It gives our Halloween a soft, mood-enhancing glow that will illuminate our gardens beautifully. It is the best choice for landscape decorating the pathways around your house.
The actual height of this product is 43 inches, and it also has an option for height adjustment so that we can customize it. We can adjust the height of its rod to suit our entrances' or garden pathway's distance.
It has a 2200 mAH battery capacity that can be charged by solar power. Their best feature is that these lights come with a separate solar panel. It can give us light for about 8 to 10 hours. It can take up to 8 hours to get fully charged throughout the day.
It is very easy to install and is weatherproof. It has an auto on/off system, which makes it best for the busiest festive season. It is durable, dustproof, and waterproof.
Pros of Solar-powered Halloween Decorations
There are several benefits to using solar-powered Halloween decorations, including:
Energy-efficient: Solar-powered Halloween decorations utilize solar energy, a renewable energy source, rather than grid electricity, which can help you lower your carbon footprint.
Cost-effective: Solar-powered Halloween decorations don't need electricity to operate, saving you money on your electricity bill and the cost of purchasing batteries.
Simple to install: They are very simple to set up and require little maintenance. Once you have placed the decorations in the desired location, they will automatically turn on when the sun goes down.
Portable: Solar-powered Halloween decorations are mobile, allowing you to move them around your yard or garden to modify the appearance of your outdoor space according to your needs and expectations.
Safe: Solar-powered decorations are safer than traditional decorations that require electricity. They don't need extension cords, and there aren't any exposed wires, which can be hazardous.
Versatile: Solar-powered decorations are available in various designs, sizes, and shapes. You can select from multiple alternatives, including string lights, lanterns, and yard decor, to create the ideal spooky atmosphere for your Halloween celebrations.
Cons of Solar-Powered Halloween Decorations
Other than the benefits, there are some disadvantages to solar-powered Halloween decorations that you have to keep in mind, including:
Sunlight dependence: solar-powered decorations require sunlight to function. They can only operate efficiently and effectively if they have enough sunshine to charge their batteries.
Limited range of styles: While many different solar-powered Halloween decorations are available, there are still few compared to traditional decorations.
Reduced brightness: Solar-powered decorations can be less brilliant and last as long as traditional decorations plugged into an electrical outlet. They are less powerful than those that run on electricity because they rely on solar energy.
Quality and durability: The quality and durability of solar-powered decorations can vary depending on the manufacturer and materials used. If you want to ensure you receive a high-quality item that will last over several Halloween seasons, it is crucial to read the reviews and buy from reliable vendors.
How do I Select Solar-Powered Halloween Decorations?
Every year, millions of Americans go to great lengths to decorate their homes for Halloween, leading to increased power consumption and sometimes resulting in blackouts during the festivities. But, with the help of solar-powered Halloween decorations, we can cope with this problem.
So, to help you choose your perfect set, I have assembled a finely curated collection of Halloween decor available on the market.
For selecting the right product, I have kept a series of things in mind. You can also keep these things in mind while making your own choice.
Battery Life of a Solar Panel: Battery capacity is important when choosing solar-powered Halloween decorations. Because who wants their Halloween décor to go in vain just because of low battery life? Look for decorations with great batteries, as they will be able to store more energy and run for a longer period.
Price: Before buying any major decorative item, you should always explore the market as much as possible to get a good idea of all available options. It allows you to choose the best one at the best price.
Design and overall aesthetic: Always consider the design and overall aesthetic of the solar-powered Halloween decoration. Choose decorations that match your style and create the desired ambiance for your outdoor space.
Multipurpose usage: Some solar Halloween decorations are expensive, and since we can only use them once a year, it can sometimes seem like a waste of money. So, buying decor that can be used for parties, Christmas, new year, birthdays, etc., is a great choice.
Look for waterproof or weather-resistant decorations: Since these decorations will be placed outside, it's crucial to pick products with both qualities. Doing this would protect the decorations from wind, rain, and other environmental elements.
Frequently Asked Question
Can solar Halloween decorations save us a lot of money?
Solar-powered Halloween decorations save us a lot of money because they are not very expensive and run on solar energy generated by the sun, which is free.
Can I use Halloween decorative items for other occasions?
Yes, you can surely use most of your Halloween decorations on other occasions like New Year's Eve, Christmas, Thanksgiving, Dinners, Birthdays, and many more. However, you must select décor that can be used for other occasions.
Are Solar Halloween Lights safe for the environment?
Unlike other Halloween decorations, solar Halloween lights are safe for the environment because they run on solar energy generated by the sun, which is free of cost and unlimited, without emitting any harmful substances into the environment.
Can solar-powered Halloween lights turn on/off automatically?
Most solar-powered Halloween lights come with manual On/Off buttons and auto On/Off features. The auto On/Off system of these solar Halloween lights allows us to have zero worries about setting them up repeatedly.
Are solar-powered Halloween decorations waterproof?
Yes, most solar-powered Halloween decorations are waterproof and weatherproof, which allows them to work during rain and other climatic effects without malfunctioning continuously.
Conclusion
Halloween is a great time to have parties inside and outside your house. Place these solar Halloween decorations on the pathways and inside or outside your house to make your home a little more spooky. They are an excellent choice for maintaining a perfect Halloween ambiance without much effort.
Solar-powered Halloween decorations are flexible, practical, sustainable, cost-effective, and durable.
Ray is an avid reader and writer with over 25 years of experience serving various domestic and multinational private and public energy companies in the USA.